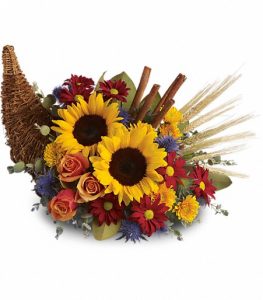 While there are many DIY design sites online that show you how to create Thanksgiving decorations for the table and there are flower shops that just do it for you, why not work together with a floral design team to make your own custom Thanksgiving centerpiece?
It is the best of both worlds.
You get to participate in its creation but you are guided by experts that can finalize it with their incredible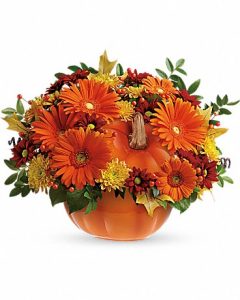 floral design skills.
In the process, you enjoy being part of the process and you have an exclusive, yet highly affordable, decoration for your Thanksgiving table or to give as a gift to the host.
At our Tucson floral design center and flower shop, you'll be able to get a one-of-a-kind Thanksgiving centerpiece that will be a memorable way to enhance your family traditions.
Since Thanksgiving arrives on Thursday, November 23rd, it may be time to start arranging that appointment with our floral design team.
Before you come in, look at our current Thanksgiving collection to see what's possible and the style you like the most.
If you don't see anything that suits your preference, check out other sites like Pinterest for other design ideas for Thanksgiving or fall.
Do you like containers, bowls, candles, or cornucopias? What about fall accents like leaves, branches, pumpkins and gourds, or acorns? These are things to have in mind before we start working with you.
Think about your table size and shape, colors and flower varieties, and your budget. Do you also want other items like a fall wreath or garland? Knowing some of these decisions ahead of time will make for a smooth and enjoyable experience with our floral design team.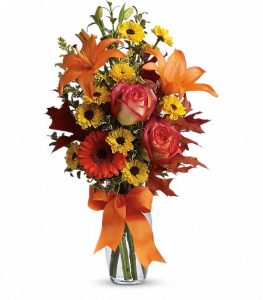 Come check out what we can create for you this Thanksgiving!