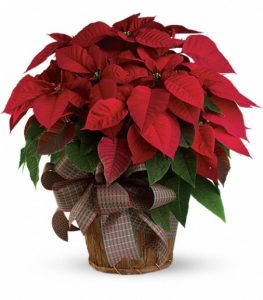 Tuesday, December 12th is Poinsettia Day. It's a day to enjoy this holiday blooming plant and what it represents in the spirit of Christmas. That's why you are likely to see the poinsettia at many homes and businesses as well as events.
It's also a great gift idea for loved ones who cannot be with you this holiday season as well as others like teachers, mail carriers, and service people. You can also send poinsettia plants to clients or colleagues.
We have a poinsettia collection of fresh blooming Christmas plants in our Tucson flower shop. They can also be ordered through our website or by calling us. Of course, you are welcome to come in and pick a few poinsettias up to take with you. There are white poinsettia and red poinsettia plants now available but they are going fast!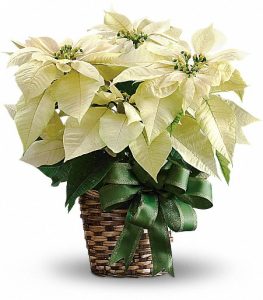 And, when you do get your poinsettia plants, remember that they are hardy and can last for years to come with proper maintenance and care throughout the year. After the holidays, you'll want to keep watering it, fertilize it, and keep it in a cool, dry place.
Throughout the spring, it should stay this way, but you'll also want to trim back all the stems until they are about a finger length long.
In the summer months, you can put your poinsettia plant outside as it will enjoy a shaded condition with water and fertilizer. Continue to give it a trim until it starts to experience new growth toward the end of summer.
Then, it will be time to bring the poinsettia plant back in the house to prepare it for the new blooms that will start leading up to the next holiday season.
Keep the poinsettia plant in the dark at night to control the growth process. Let it experience full growth, starting at the end of November. You can put it in the window and continue watering it.
With this care regimen, your poinsettia plant should be ready for a full bloom display with possibly more blooms than the previous year. Enjoy!