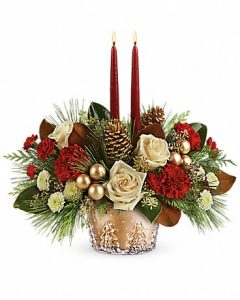 Holiday shopping is in full gear, and we're here to help you make it easier. Whether you visit our Tucson flower shop or you shop through our website, we have a large holiday collection that offers wreaths, garlands, centerpieces, bouquets, arrangements, and gifts for all price ranges. Most of our Christmas collection is available for national delivery, so it even gives you a chance to cross off many of those nationwide gifts for special people on your list.
To get you started, here are some of the highlights that illustrate the array of styles and designs available:
Mayfield's Winter Pines Centerpiece
Deck the Halls Boxwood Tree
A fresh tabletop tree is a great decorating touch for your home or office as it allows you to have an extra tree or even just have one if you are in a small space. English boxwood stems are hand arranged to look like a mini Christmas tree. It comes complete with all trimmings and decorations done for you!
A Christmas Dozen
This is a stunning display of red roses with beautiful holiday accents within a ruby red vase.
Solstice
This flower arrangement includes red roses, Christmas greenery, and holiday accents, offering a welcome sight in a foyer or making a special gift to a loved one far away.
Royal Christmas Centerpiece
This is an elegant golden centerpiece with holiday flowers, accents, and gold candles. It is sure to elevate the sophistication of your holiday table during the Christmas meal.
Mayfield's Christmas Present Perfect
Made to look like a wrapped present, this clever one-sided arrangement is a sweet gesture on the holidays for a teacher or other special person in your life.
Mayfield's Festive Evergreen Mantel Swag
Custom Holiday Orders
We also offer custom Christmas centerpieces, arrangements, wreaths and more. However, you must make an appointment with our floral design team as soon as possible to ensure we have time to make these one-of-a-kind floral displays for your holiday party, event, or gift. Call us today or stop by our Tucson flower shop!