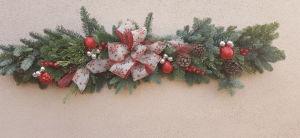 The official holiday decorating season has arrived and our Tucson flower shop is ready to help you show off your holiday style both in your home and outdoors.
We have wreaths and garlands, poinsettia plants, centerpieces, bouquets, and gifts that make it easy and enjoyable to wrap up your decorating and gift-giving through our Tucson flower shop or our floral website.
Here are some highlights from our Christmas collection, which we will be sharing every week up until the holiday arrives:
Let's start with Christmas wreaths, garlands, and swags.
Mayfield's Festive Evergreen Mantel Swag
This is just one example of how you can decorate your fireplace mantel. We have many other designs or you can get a custom mantel swag and garland to match. This particular floral design includes winter evergreen, pine cones, Christmas ornaments, berries, and a bow.  We have many colors to choose from, including red, gold, white, silver and blue. That way, you can have one for Hanukkah as well.
Classic Holiday Wreath
Next, let's look at just a few of our beautiful holiday floral designs that can be used to decorate or for gift-giving:
Holiday Enchantment Bouquet
This stunning holiday floral design features red roses, white lilies, and festive berries and pine. This is a tall, one-sided floral design.
Scarlet Greetings
This unique floral design offers Christmas tulips in pink as well as red roses, pine cones, and winter greenery. The Christmas flower arrangement is presented in a clay vase.
Check out these floral designs for Christmas and more in our online Christmas shop as well as in our Tucson flower shop. We are taking holiday orders right now for Tucson and national delivery so it arrives in time for the holidays.