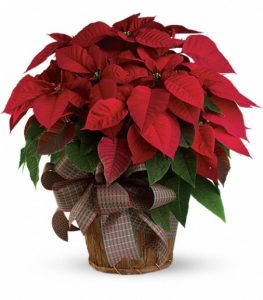 As a national holiday, Poinsettia Day celebrates the symbol of Christmas and encourages others to get into the holiday spirit.
Poinsettia Day is Wednesday, December 12th so now is the time to order poinsettia plants from our Tucson flower shop for your home or business or as a gift for a client, family member, friend, or colleague.
A poinsettia plant also makes a thoughtful gift for a service person like the gardener, pool technician, mail carrier, or housecleaner.
Besides our offering of red or white poinsettia plants in an array of container choices, we also offer other arrangements that have poinsettias. Here are some ideas from our poinsettia collection:
Red Poinsettia Basket
This is a large basket that contains multiple red poinsettia plants. It's a great addition to your holiday decor but also makes a statement gift for someone special.
Holiday Homecoming Basket
Poinsettia Care