Mayfield Florist
Tucson's Flower Shop Has Your Holiday Decor
With two flower shops in Tucson, Arizona to serve customers along with a convenient mobile-friendly floral and gift website, we are focused on giving you the best value, service, variety, and quality for your event or occasion. Flowers, plants, and gifts are available for local delivery with numerous delivery options available.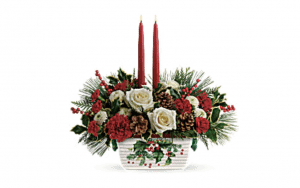 Our Tucson flower shop provides a wide range of holiday decorations for Hanukkah and Christmas that help you add a festive touch to your Tucson home or Tucson business. We also offer custom Tucson holiday flowers for your upcoming Christmas party or New Year's Eve bash.
Poinsettias
Poinsettia plants are one of the most beloved symbols of Christmas. These colorful plants are an easy and beautiful way to quickly decorate for the holidays at your home or office. Grouping just a few of the red, white, or mixed blooming plants together can cover a wide area.
Don't forget that Poinsettia Day on December 12th, which is an ideal time to gift colleagues or friends and help them get ready for the holidays!
Wreaths and Garlands
Wreaths and garlands help you decorate the inside and outside of your home, creating instant warmth and a welcoming ambiance for guests. Our fresh wreaths also have that wonderful scent of evergreen. You can even add your own lights to our wreaths, garlands, and swags.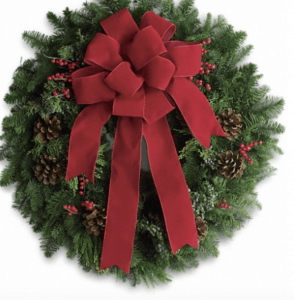 Centerpieces
Centerpieces add a festive touch to the Christmas table, but they are also good for holiday party tables, living and family room tables, buffet tables, and more. We offer a wide range of holiday centerpieces with candles and without. Some are flat while others come in dishes and containers.
Custom Holiday Flowers
Don't forget that we also have an incredible floral design team at our Mayfield flower shop that are at your disposal for an upcoming holiday party or even just to decorate your own home or office.
Custom holiday flowers include all types of styles and formats designed around your preferences and budget. Make your appointment now to get your custom holiday flowers!