Mayfield Florist
Tucson's Flower Shop Offers Fresh Poinsettia Plants
With two flower shops in Tucson, Arizona to serve customers along with a convenient mobile-friendly floral and gift website, we are focused on giving you the best value, service, variety, and quality for your event or occasion. Flowers, plants, and gifts are available for local delivery with numerous delivery options available for this holiday season. Our Tucson flower shop and website offers a large array of holiday flowers, including decor and gifts.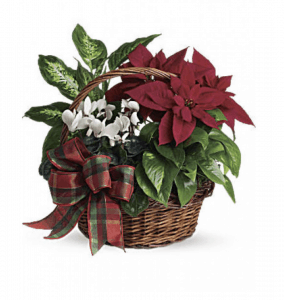 Let's kickoff holiday decorating and gift-giving with Poinsettia Day on December 12th.
This beloved symbol of Christmas is one of the best ways to decorate for the holidays at your home or office.
Put poinsettia plants on your porch to welcome guests. You can also display them on your stairs and throughout your home as an easy and festive way to decorate.
Our Tucson flower shop offers red poinsettias and white poinsettias as well as poinsettia plants combined with foliage and seasonal plants.
For example, our Holiday Homecoming Basket includes a red poinsettia, white cyclamen, green pothos and variegated dieffenbachia. All of these plants are then arranged in a natural handled basket. What a fantastic gift for Christmas!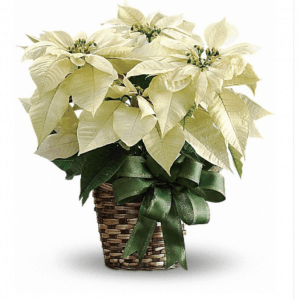 Now is the time to order your poinsettias for friends, family, neighbors, clients, colleagues and service personnel.
The holiday plants are easy to care for and can live a long time, even blooming again next Christmas with just some simple maintenance. They only require a little water and indirect light. Also, keep them in a fairly cool place.
Order your poinsettia plants today!