The answer to that question is when you decorate with the assistance of your favorite Tucson florist, Mayfield Florist, of course! If you haven't started your holiday decorating, now is the time, and we are here to help! 
Our Christmas collection, available in our Tucson flower shop and through our website, offers something for everyone, with many styles — from traditional and elegant to rustic and whimsical — to fit your decorating style for the holidays.
Not sure where to start to transform your home into a holiday wonderland. Here are some Christmas decorating ideas.
Let's start on the outside. Whether you are welcoming a few family members or adding to the festive mood of the neighborhood, you could add a fresh evergreen wreath to the front door and some garlands on any outside railings. Of course, you could also carry both of these inside your home, too!
Poinsettia plants in red, white, or a combination of colors are also good for the porch or front entry way.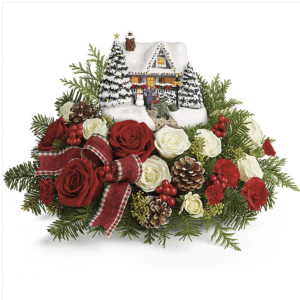 As you enter the home, your foyer can become another festive welcoming point with more poinsettias or a Christmas bouquet in red, white, and green. Another option is to add a smaller centerpiece like our Thomas Kincade centerpiece with a keepsake holiday building to re-us during future holidays. It even has window that light up so evening visitors will be enthralled by the cozy Christmas scene it offers.
Think about other socially focused rooms that could benefit from holiday florals and Christmas plants, such as the family room, gathering room, and kitchen.
If you are expecting guests, add some Christmas roses or a cube vase display to their guest room to carry the spirit of Christmas throughout your home. You might even consider giving your guests a flower arrangement that features a keepsake container like our whimsical snowman vase.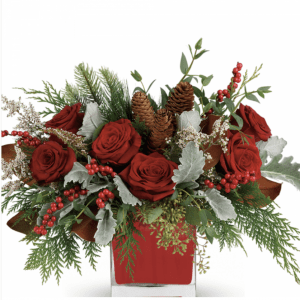 Then, there is the all-important Christmas centerpiece. We have formal centerpieces in footed bowls as well as traditional holiday centerpieces with taper or pillar candles. There are also rustic centerpieces in wooden boxes or baskets that fit a more casual decorating style.
Remember, your holiday decor doesn't have to match all the way through your home, inside and out. This type of decorating gives you the opportunity to theme each room for added visual enjoyment for your family and visitors.
We offer curbside pickup and contactless delivery for your convenience. Let us know when you place your holiday order. Thank you for shopping with a local Tucson small business! We appreciate each one of you!