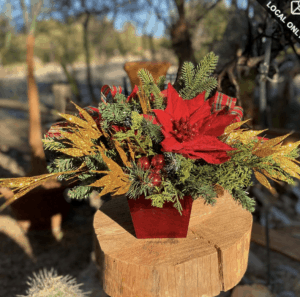 Poinsettia Day is just days away on Saturday, December 12th. Each year, this special day is held on December 12th as a way to recognize the incredible beauty in nature.
In 2002, Poinsettia Day become a nationally recognized special day that offers another way to celebrate the holiday season.  Every year, it also provides a good reason to get into the giving spirit of the season and gift those around you with a beautiful poinsettia plant in red, white, or one of the other many varieties that are available.
You may not realize that there are actually more than 100 different varieties of the poinsettia plant. However, the red poinsettia became popular in its association with Christmas and its use for producing a natural red dye.
The white poinsettia is another variety that we have in our Tucson flower shop and one that is often requested by our customers during the holiday season.
Of course, you can also enjoy poinsettias as part of a garden basket arrangement that offers other Christmas plants and seasonal green plants that enhance the seasonal celebrations.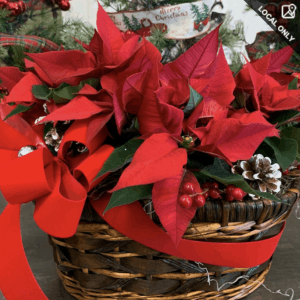 If you would like to order poinsettias from our Tucson flower shop, please call or use our website. We offer contactless delivery throughout the Tucson area.
Besides decorating your home with poinsettia plants and gifting them to friends, neighbors, colleagues, teachers, and service personnel, there are other ways to celebrate Poinsettia Day.
Some of our local botanical gardens may be offering a way to enjoy seasonal plants and the season as well as drive through Christmas events that the entire family can enjoy.
Other options include getting crafty on your own or getting your kids to join in on creating some poinsettia artwork. You can use different materials or order some materials from a local craft store. Whether you make poinsettia ornaments or wall art or create poinsettia pillow covers with fabric paint, any craft project is a perfect way to celebrate Poinsettia Day while also enhancing your Christmas decor. You might even make some items to give as gifts.
Don't forget that you can even create some beverages or food inspired by the poinsettia. Think Poinsettia Punch with cranberry juice and whatever add-ins that make it an adult drink or a fun drink for everyone. You can also decorate sugar cookies to look like poinsettia plants.
There are so many fun ways to get involved with Poinsettia Day. Now that more of us are at home, there's time to focus on these types of activities to make the most of the holiday season!