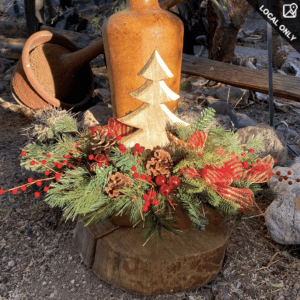 You are probably still working on crossing off those items on your holiday gift list. It's been a tough year, and you are thinking of ways to make the gifts extra special this year.
Depending on who is on your list, you have many options to choose from and safely order and deliver thanks to your favorite Tucson flower shop and website. We've got something for every recipient on your holiday list who will be impressed with the selection of festive flowers, plants, decor, and more. Here are some holiday gift ideas:
Wreaths and Garlands
From fresh evergreen options to silk and artificial versions, you can choose from a wide range of wreaths and garlands. These make great holiday gifts because they help your recipient decorate their own homes with festive accents. Wreaths and garlands are also versatile that many of those on your list will appreciate — from friends and family to clients and service personnel.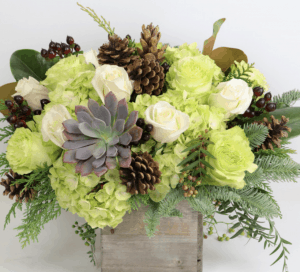 There are also many styles to choose from, including rustic versions with burlap and pinecones as well as those traditional looks with red ribbons and shiny baubles.
Tabletop Trees
Another beautiful gift option is a fully-decorated tabletop tree, again with many styles and designs for the holidays. These breathtaking miniature Christmas trees are perfect for loved ones and special clients on your list.
Holiday Centerpieces, Bouquets, and Poinsettias
Everyone on your holiday gift list will be impressed when they receive a fresh or silk holiday centerpiece to grace the Christmas dinner table. If you don't opt for a larger floral design like a centerpiece, you can also send fresh seasonal bouquet or a poinsettia plant to show your appreciation of these recipients. There are different floral designs to match your recipients' personal preferences. Even custom holiday floral services are available to get something unique for each recipient.
Also, poinsettias are a beautiful symbol of Christmas that makes an ideal gift for so many. This long-lasting plant can provide months of smiles for your recipients, even blooming again with very little maintenance.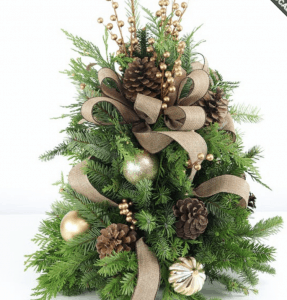 Gift Baskets
We also offer numerous gourmet and fresh fruit gift baskets that are ideal for giving during the holidays, providing lots of delicious treats your recipient can enjoy throughout the season. Choose from different sizes and themes to match these scrumptious gifts to your recipients.
Order Today!
We offer local Tucson delivery, using contactless service to keep everyone safe and secure! Order by phone or online.