Hosting a holiday party this year looks a lot different than in past years. There won't be any large events. Instead, we know this year is about keeping it small and within our direct families.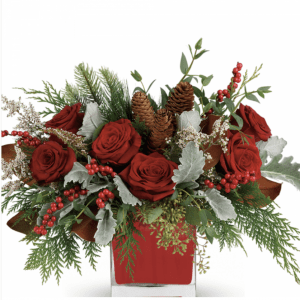 However, that does not mean you can't make it a festive event during the holidays and, instead, create a low-key party with direct family and close friends.
Turn these festivities into a holiday party with decor, appetizers, music, and games. To enhance the holiday ambiance, consider adding some custom floral designs from our Tucson flower shop, including floral displays for Christmas and New Year's.
Our floral design team can create a custom holiday centerpiece for either holiday or develop one that works across both celebrations. We offer numerous price ranges for these custom centerpiece designs for Christmas and New Year's, including $75, $150, $200, and $250.
When we create a custom centerpiece for a holiday party, we work with you directly on what you want. Please call and schedule a time to work with our floral design team. We can work over the phone or a video conference to keep everyone safe but help you stay involved in the floral vision for your holiday party.
Plus, our floral design team can make other custom floral designs for you, including bouquets, flower arrangements, wreaths, garlands, and more. You will have a say in the style, color and flower choice, size, and container so we make sure your floral design matches your personal holiday party style.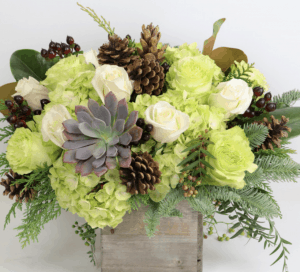 No matter what format, theme, or size you want, we focus on using the freshest seasonal flowers, greenery, and accents. To offer the best value and pass that on to you, we purchase flowers and vases based on seasonal availability. This provides many options for you, but it also means that we sometimes run out of a certain flower or container! However, we are sure to find you something that works, or you can also consider dropping off specific containers you would like to use.
There's still time to work with us on custom holiday floral designs! Contact us today and we can schedule a time to work with you to enhance your low-key holiday party experience.