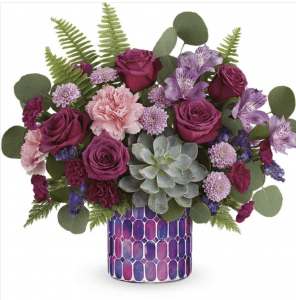 Passover is March 27th through April 4th followed by Easter on April 4th. Both Spring holidays focus on religious meaning and the importance of hope, renewal, and rebirth. It's a special time with family that also involves fun activities like Easter egg hunts and candy.
After a challenging year, it's good to know there is hope that we can participate in these celebrations outside of our home or in the company of more people than in 2020. It offers a lot of positivity that this year will be a turnaround and allow us to go back to doing many of things all of us miss so much.
At Mayfield Florist, our Tucson flower shop has been hard at work creating stunning Spring floral displays that work for Passover or Easter, including many centerpieces for the brunch or dinner table.
Choose from bright colors to pastel hues in multiple styles — whimsical, formal, traditional, modern, botanical, garden, and more. Of course, we still have many of your favorite floral designs for Spring available for order.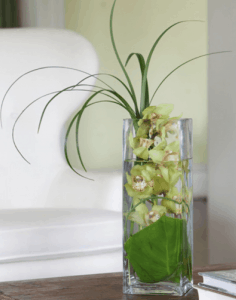 Our Tucson flower shop is overflowing with Spring flowers like tulips, lilies, hyacinth, daisies, and other gorgeous flowers. You can select different sizes, containers, and prices or opt for our custom flower services for Easter centerpieces and Passover flowers. Flower arrangements also include some unique designs, such as our orchids in a tall glass or our vivid purple and lavender arrangement in a mosaic glass vase with special greenery accents.
We also have blooming plants like Azaleas or Lily plants that are synonymous with Easter celebrations. You can also choose garden baskets and containers that combine green and blooming plants that fit nicely around an outdoor Spring holiday celebration.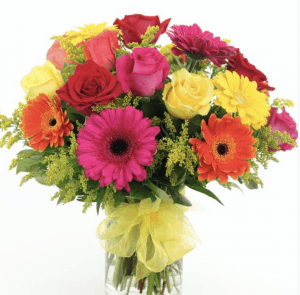 There are other options in our Tucson flower shop as well as through our website, including balloons, gourmet and fruit gift baskets, and greeting cards for these Spring holidays.
These make nice gifts for your holiday host or for those within your family. Ask us what else is available.
You can order for Passover or Easter in-person, by phone, or through our website. You have the option to pick up your order or request contactless delivery for the Tucson area. Thank you for ordering from us for these Spring holidays! We look forward to working with you!