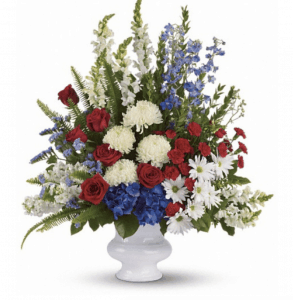 This year, Memorial Day is Monday, May 31st. While some enjoy a three-day weekend and view it as the unofficial start to summer, others see it as a special time to remember lost loved ones who fought in wars or conflicts or who dedicated their life to the military.
It's a time to think about what these courageous people did for all of us in fighting to preserve our freedom and rights. Across many generations, there are hundreds, if not thousands, who have served in the military. Memorial Day is when we stop and reflect on their service as well as pay our respects.
As things begin to open up again, there is the hope that we can celebrate Memorial Day with parades, graveside services, and parties and other events. Now that this is possible, it's also a good time to start planning how to decorate for a Memorial Day event with patriotic flowers, wreaths, and standing sprays. You can also opt to send flowers to loved ones you know that have lost someone on the battle field or after a long career in the military.
At our Tucson flower shop, we offer a Memorial Day collection of patriotic bouquets and floral designs that are a touching way to show your respect on Memorial Day. Whether it is for a Tucson Memorial Day parade or event or as a bouquet to lay at a Tucson veteran cemetery, we have the floral expressions to show your respect.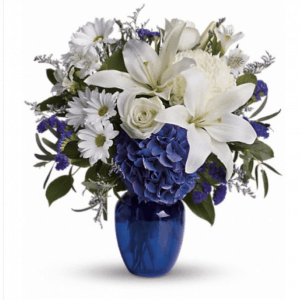 You can also schedule an appointment with our floral designers at our Tucson florist location to have a custom patriotic flower arrangement, centerpiece, wreath, or other floral display made just for you. This can include all types of red, white, and blue flowers as well as greenery and patriotic accents like miniature American flags. We can arrange them into any size and use any type of container that fits your gift or event.
For our existing collection and custom patriotic flowers, you can opt to pick your order up at our Tucson flower shop or we can arrange for contactless delivery throughout the Tucson area. Call, stop by, or use our website to take care of all your floral needs for this Memorial Day.
Thank you to all for your service and courage to help keep our country free!