Mayfield Florist
Hello wonderful Fall season! Halloween is just a few days away as we are now in full swing of the Fall season. What a perfect time of year to decorate your home with holiday festive flowers and other fall décor from Mayfield Florist. People often love Fall more than other seasons for all the benefits it brings.  The temperatures are more comfortable than the hot days of summer, the leaves are turning bright colors, holiday fragrances fill the air and the holiday spirit begins to gain momentum. Decorating the home is always an exciting activity for the family and the expert floral designers at Mayfield Florist are ready to assist with our stylish and festive fall flowers.
Our Mayfield Florist talented floral designers would be honored to serve you by creating the perfect Halloween flower arrangement for your celebration.
Mayfield's Spooky Succulent Garden – Fabulously festive! Celebrate the spookiest season in style with this whimsical white ceramic pumpkin, arranged with a lush garden of living succulent plants.
Fall Harvest Cube – Check out this gorgeous contemporary Fall arrangement from Mayfield Florist. Our designers created this modern cube arrangement using beautiful red roses, orange roses and yellow roses. We designed all of these gorgeous spray roses in a stunning cubed glass vase. Makes for a beautiful Fall floral design.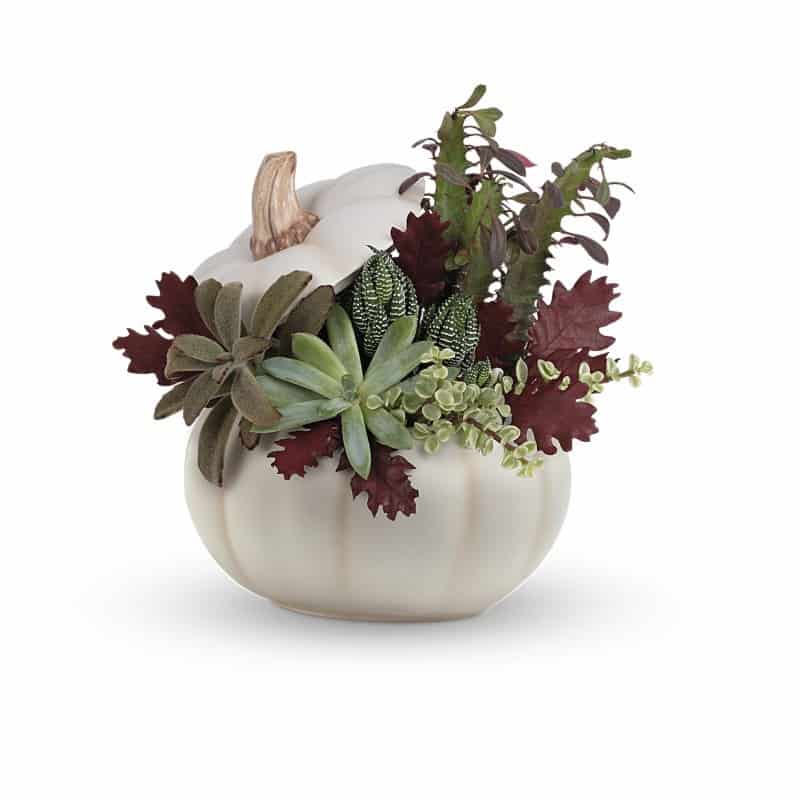 Mayfield's Spooky Succulent Garden
Marana Florist – Same Day Flower Delivery to Marana
Florist Marana AZ
Voted Best Florist In Tucson
Mayfield Florist has been proudly serving Marana and the Tucson area since 1982. We sell gorgeous, farm direct flowers, beautiful live green and flowering plants. Including a wonderful selection of succulents. Mayfield Florist is a second generation, family owned and operated floral design firm. We are honored to have been voted Best Florist in Tucson on numerous occasions. We offer fabulous farm direct roses, orchids and many other fresh flower varieties.
Our shops are also filled with gorgeous live green plants, flowering and succulent plants. We also offer gifts, themed for all occasions. We employ one of the most talented floral design staffs in Arizona. They are known for producing luxurious, upscale floral designs. The delivery staff at Mayfield Florist makes daily delivery runs to all Tucson and Marana area hospitals, churches, funeral homes and mortuaries.
Local Same Day & Express Delivery | Nationwide Same Day Flower Delivery
Fall Harvest Cube
Mayfield Florist
Voted Best Florist In Tucson
Flower Shop Is Open To The Public
Mayfield Florist operates multiple floral design centers in Tucson. Our Central location is located at 1610 North Tucson Blvd. This flower shop is open to the public for in-store shopping. We have a beautiful showroom and our walk-in cooler always has lots of great occasion themed flower arrangements for immediate purchase
1610 North Tucson Blvd
Tucson, AZ 85716
Get Directions »