Mayfield Florist
November is recognized as the National Diabetes and Lung Cancer Awareness Month.  Many of us know individuals with one of these ailments. November Awareness Month is a great time to show them they are important to us. They would probably cherish and benefit from a positive gesture of encouragement and love. Sending gorgeous and caring flowers from Mayfield Florist is one perfect way to show that you care and to acknowledge the importance of this awareness month.
Diabetes is an ongoing and swiftly growing public health issue. Many people deal with the illness everyday. However, with proper management of diabetes, those suffering with diabetes are able to avoid major complications later by making healthy life style choices and or changes.  Early screening by doctors is a good start as often diabetes is a gradual illness that develops over time and early detection of symptoms can allow for adjustments in eating, exercise and other lifestyle activities. There are also many sources of information to increase awareness and management of the illness. The American Diabetes Association is one such educational resource.
Lung Cancer is another major public health issue. This disease causes more deaths each year than many of the other known major illnesses combined. No surprise that some studies show that 90% plus of lung cancer illnesses could be avoided by not smoking. Back in 1995, there was a day designated as Lung Cancer Awareness Day and this has morphed into Lung Cancer Awareness Month. During November there is special interest from people in the US and the world to focus on a wide variety of social media, fund raising and other awareness activities.
The industry best of the best floral designers at Mayfield Florist are passionate about producing flower arrangements and bouquets to honor special occasions and to bring joy into people's lives. If you know someone who is struggling with Diabetes or Lung Cancer, November awareness month is the perfect time to visit Mayfield Florist and order that special caring flower arrangement or bouquet and let them know you care.
Gotcha Gerberas – Brightly colored Gerberas for your loved ones! Send these happy flowers to brighten someone's day, say Happy Birthday, or Just because! There are so many reasons to send Gerberas! This contemporary design is perfect for a coffee table, office desk or kitchen island.  **colors are subject to availability** 
Enchanting Pastels Unicorn Bouquet – Pale pink roses and pretty pastel petals look oh-so-enchanting in this sweet ceramic unicorn with golden horn and hand-painted details!
Selling out fast! Order yours today before they are sold out!
Beautiful Ranunculus, Ecuadorian Roses & Succulents
Local Same Day & Express Flower Delivery
Freaky Fourth Avenue – The floral designers at Mayfield Florist created this gorgeous arrangement. We call it "Freaky Fourth Avenue." This stunning floral arrangement features gorgeous hot pink roses, mixed with green cymbidium orchid blooms, orange mini roses and long lasting succulent cuts. All these beautiful blooms are expertly nestled into a leaf lined glass cylinder vase. This is one of those really flexible arrangements that is appropriate to send for many different occasions.
New Petite Design Collection
Roses, Hydrangea, Orchids
The award winning floral design team at Mayfield Florist created this stunning floral arrangement. We call it Tucson Petite Blush. This arrangement is part of our new petite floral collections. This week, surprise your loved one with this one of a kind arrangement! Orange and pink roses, two different kinds of hydrangea, a cymbidium orchid and more are featured in this beautiful arrangement presented in a designer ceramic container.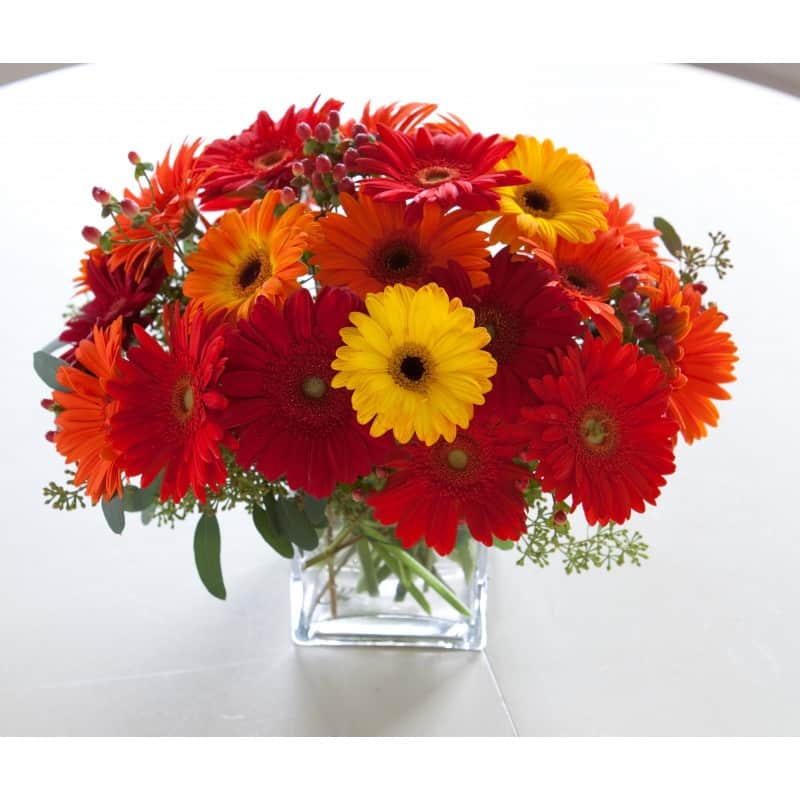 Mayfield's Gotcha Gerberas
Catalina Florist – Same Day Flower Delivery to Catalina
Florist Catalina AZ
Voted Best Florist In Tucson
Mayfield Florist offers gorgeous farm fresh flowers, to customers in Catalina, Arizona. Our firm was established in 1982. We are a true, second generation, family owned and operated floral design firm. Products we sell include farm fresh flowers, plants and gifts for all occasions. We employ one of the most talented floral design staffs in Arizona. They are known for producing luxurious, upscale floral designs. The delivery staff at Mayfield Florist makes daily delivery runs to all Tucson and Catalina area hospitals, churches, funeral homes and mortuaries.
Local Same Day & Express Delivery    |    Nationwide Same Day Flower Delivery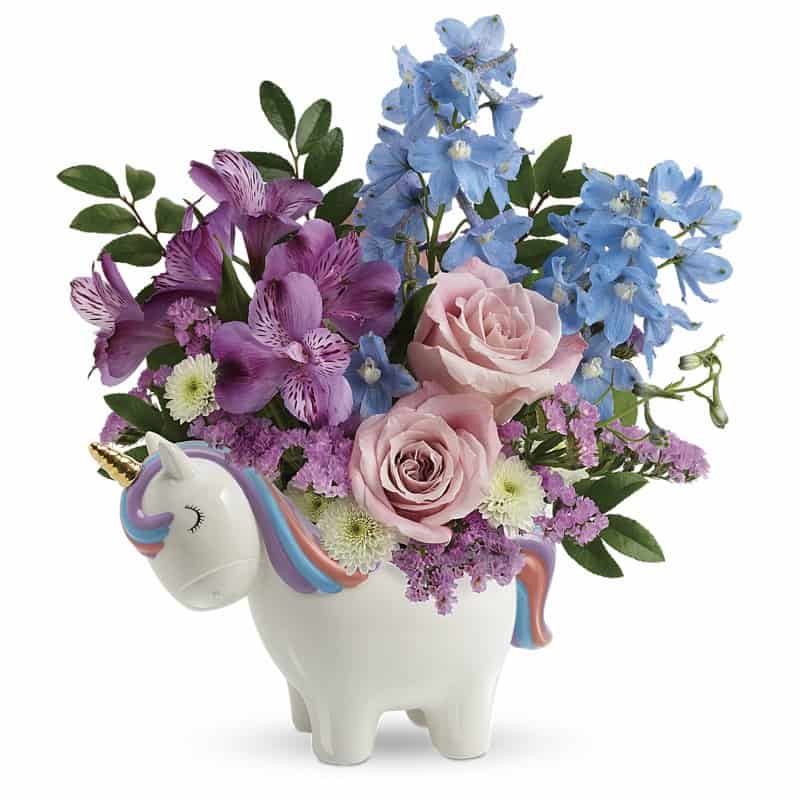 Mayfield's Enchanting Pastels Unicorn Bouquet
Mayfield Florist
Voted Best Florist In Tucson
Flower Shop Is Open To The Public
Mayfield Florist operates multiple floral design centers in Tucson. Our Central location is located at 1610 North Tucson Blvd. This flower shop is open to the public for in-store shopping. We have a beautiful showroom and our walk-in cooler always has lots of great occasion themed flower arrangements for immediate purchase
1610 North Tucson Blvd
Tucson, AZ 85716
Get Directions »