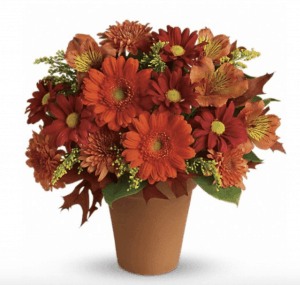 Thanksgiving is just around the corner. But, there's still time to call and make an appointment at our Tucson flower shop where you can meet with our floral design team and create an affordable custom Thanksgiving centerpiece.
Why create a custom Thanksgiving centerpiece with us?
First, it creates something unique for your special holiday occasion to match your style and make more memories.
Second, you can enjoy the creative process of making something beautiful to showcase at your family event.
Just be sure to know the size and shape of the tables you will be using as well as share your favorite designs, colors, and flowers.
Also, have a budget in mind that you feel comfortable with.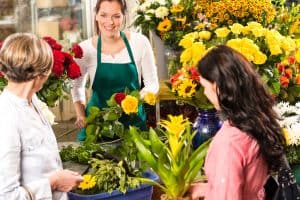 Third, you get exceptional value, quality, and freshness when you work with our Tucson flower shop that you can't get elsewhere.
Finally, you can also select other Thanksgiving flowers to accompany your custom Thanksgiving centerpiece or create even more unique floral art with our team.
All you need to do is make an appointment.
Even if you are traveling elsewhere this Thanksgiving, consider our Tucson florist for a bouquet or special arrangement to take with you like these:
Classic Cornucopia
A beautiful cornucopia shows your thanks and offers a heart-warming display of fall flowers and foliage.
Mayfield's Golden Amber Bouquet
An opalescent mercury glass cube with a golden finish offers a keepsake gift while the fall flowers offer a warm glow to the Thanksgiving feast.
Mayfield's Citrus Harvest Bouquet
Your Thanksgiving host is sure to love this keepsake amber glass lantern with shimmering golden leaves filled with fall flowers.
Make your appointment today for a custom Thanksgiving centerpiece and order your flowers and bouquets now! We offer local Tucson and national delivery on most of our fall flower and Thanksgiving collections.