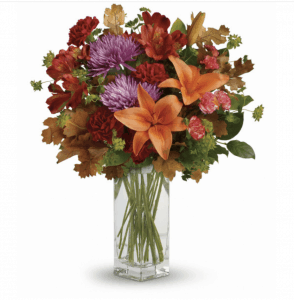 Now that Fall officially arrived on September 22nd, there is so much to be excited about. We can't wait to visit the pumpkin patches and enjoy fall festivities with friends and family.
And, we are so happy to welcome you into our Tucson flower shop to get all of your fall decor and fall gifts.
Here are some of the fall trends we are incorporating in this year's fall collection.
New Colors
We all love the rich colors of fall, including burgundy, burnt orange, brown, and more. However, a fall trend this year is to consider mixing it up by adding a punch of color like pink or purple that you would see more during other seasons.
For example, our Fall Brights Bouquet showcases how well these colors blend with traditional autumn hues. Or, our Tucson Petite Sunset gives you a glamorous sequined container filled with bright and bold colors that offer something a little bit unexpected for your fall decor.
Sunflowers and Pumpkins
Even with some new fall trends, traditional fall motifs are still popular here in Tucson. This includes pumpkin accents and keepsake pumpkin containers.
Sunflowers also continue to be in-demand as a beautiful way to transition from the summer to fall season.  Choose from a bowl full of sunflowers or go for something truly unique like our Sunflower Topiary.
Fall Plants
And, it's not just fall flowers that we get excited about. There are many fall plants that also offer a beautiful way to decorate your home for the season or that serve as thoughtful gifts for all types of occasions and celebrations.
For example, a bright yellow chrysanthemum plant with wheat and birch accents looks great on a patio, balcony, porch, or foyer table.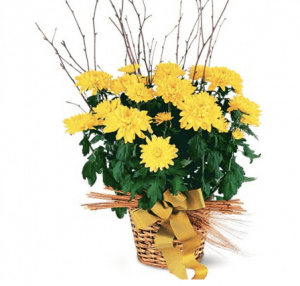 Place your fall order today in our Tucson flower shop, by phone, or through our website. We have more fall flowers, plants, and gifts available as well so come check them out!
You can pick up your order at our Tucson florist location or at the curb. We also offer contactless delivery if you prefer that delivery method.