Mayfield Florist has the best red roses in Tucson and was Voted Best Florist in Tucson Arizona
Mayfield Florist is the best florist to purchase roses from in the Tucson area. We have roses of all types and colors.  This June is National Rose Month and is the perfect time to shop with Mayfield Florist. Not only do we offer roses, but we also have many other varieties of flowers and plants to choose from. Recently, I was provided with a sensational article regarding roses that was written by the Chairman of the Society of American Florists. There is so much great information in the article, and it is so relevant for National Rose Month that I wanted to share it.
Roses are the most popular flower in the world, with over a billion stems sold annually. Over 250 million are produced for Valentine's Day alone. They are popular because of their beautiful colors, shape and petal structure, as well as their lovely fragrance. While many landscape roses have 5 petals, hybrid tea roses, those produced for commercial cutting, can have up to 40 petals. Best of all, there are always new varieties to discover with over 150 rose species and thousands of fabulous cultivars.

June is National Rose Month, a perfect time for me to share with you some of my favorite varieties, not ranked, because they are simply too beautiful to pick a favorite.

Alabaster is a breathtaking, off-white rose with many soft, delicate petals.
Catalina warms my soul with creamy yellow petals that reveal sunshine as they open.
Ashley is a luscious pink rose that is not too pale and not too bold.
Juliet captivates me with a very interesting petal structure and perfect peach color.
Miyabi Wabara is a pink rose with a peach heart and wonderfully ruffled petals.
Free Spirit combines yellow, peach and pink in its countless petals. Just WOW!

I am often asked how to care for cut roses and respond with a few tips:

Keep the water clean. Bacteria is our primary enemy and you can limit bacterial growth by rinsing the vase daily and refilling with water.
Cut stems with a knife or very sharp pruners. Dull scissors will pinch the Xylem and Phloem closed and restrict the uptake of water.
Use the flower food provided by your florist. The old wives' tales about aspirin and pennies are lore and not based on any science. The food is most essential during the first two water changes, so do not worry if you run out.
If a rose wilts prematurely, do not trash it. Simply give it a fresh cut and submerge the entire rose in warm water for an hour or so. It will rehydrate and look great for many additional days.

Fun fact: Most of the world's cut roses are grown in the mountains of Colombia and Ecuador. The altitude and proximity to the Equator means lots of year-round sunshine and the perfect combination of temperature and humidity.

Also, please remember that an open rose is not necessarily an old rose. Advancements in growing technology mean growers can leave the stem attached to the plant longer for better health and bloom development.

Therefore, we can deliver a fully developed, open rose that will perform well in the vase for 6-10 days. If you get one, follow my care instructions and enjoy the rose in its most beautiful open stages.

This month I hope you will join me in experiencing the joy of roses, both as a giver and receiver.  Happy Summer!

By Chris Drummond, AAF, PFCI

A third-generation florist, Chris grew up in Audubon, PA. He has been awarded Pennsylvania's Florist of The Year, and currently serves as Chairman of the Society of American Florists.
My True Love Bouquet with Long Stemmed Roses
Your devotion, delivered. Surprise your special one with this gorgeous arrangement of one dozen long stem red roses. It's a timeless testimony of your love she won't soon forget. 12 Red Roses arranged in the traditional.
Mayfield Florist Sells Exquisite Roses to Celebrate National Rose Month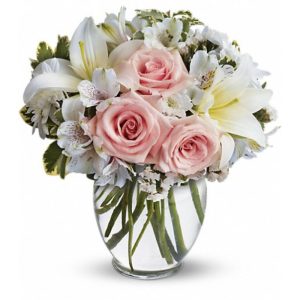 Mayfield Florist has the best red roses in Tucson and was Voted Best Florist in Tucson Arizona. We purchase many of the red roses we sell direct from both domestic and international growers. Our red Ecuadorian roses are truly something special. They are grown high in the mountains, where the roses enjoy near perfect growing conditions. These gorgeous roses are longer stemmed, larger blooms and offer extended vase life. We offer both Local Same Day & Rush Flower Delivery plus Nationwide Same Day Flower Delivery.
In addition to the two flower shops that we operate, we also operate a warehouse, design and distribution center. This design and distribution facility is located at 2200 North Wilmot Road and is not open to the public.
Being one of the largest florists in the state of Arizona, we utilize the design and distribution center to help ensure that we produce this highest quality floral products and provide on-time delivery of every order we receive.
You may have noticed on our site that we display a Google Reviews Program badge in the lower right-hand corner of the site. Google conducts customer satisfaction surveys with people who order from us. We are proud to say that we have a 4.9-star rating, out of a possible 5-star maximum score.
Villa Serena
This beautiful bouquet will most certainly arrive in style! Ready for the runway, as it were. A delightful combination of light colors and lovely flowers, it's simply beautiful.
Mayfield Florist offers Fresh Roses to Celebrate National Rose Month
1610 North Tucson Blvd
Tucson, AZ 85716
Get Directions »